By: Melissa J. Barciela Mandala
My road to academics began in my teenage years. Though I would often say, "I want to be a veterinarian" and "I want to be a nurse," I eventually returned to a fundamental sense that biblical studies is what I love and had always loved as a young person. I completed my undergraduate degree at Palm Beach Atlantic University (PBAU) in Biblical and Theological Studies to enter full-time ministerial work. Toward the end of my undergraduate degree, I had the opportunity to do a study abroad program at the University of Oxford. Through my tutorial experiences and interaction with scholars in New Testament studies, I quickly realized that I enjoyed rigorous academic study much more than one might say is "normal." I took that passion as indicating that I ought to shift onto a more academic path while still maintaining my involvement in church ministry. I went on to complete a Master of Divinity at PBAU, but I was determined that I would one day return to the U.K. for doctoral studies. Alas, in 2020, my husband Ryan and I moved to Dundee, Scotland, and I completed a Master of Letters in Biblical Languages and Literature at the University of St Andrews. I am now a first-year Ph.D. student at St Andrews.
My research focus is on New Testament/Pauline studies, and my doctoral thesis is a comparative study of the conceptions of the suffering body and its relation to virtue formation in the writings of Paul and Seneca. I am interested in the ways the body is depicted in pain, particularly in Paul's context, which includes the writings of Second Temple Judaism and the broader Greco-Roman context, and how this informs the way we understand Paul's body language as it is applied to suffering and participation in Christ's sufferings. I am also intrigued by what happens when we take this particular first-century conception of the body and place it in dialogue with one of Paul's contemporaries, the Stoic philosopher, Seneca.
This research interest arose from both academic intrigue and personal interest. Multiple family members of mine have faced bodily suffering and chronic pain in ways that made me especially aware of how body metaphors are used in the biblical text. Additionally, as I sought to understand the bodily pain experienced among those in my family and my own body, I recognized the need for theological conversation around chronic bodily ailment within the local church. Though I am not working on a theology of pain, my project is a New Testament contribution to these important questions. I am grateful that the St Mary's College at the University of St Andrews offered me a space to pursue these interests and develop as a young scholar in the field.
Additionally, I currently serve as co-director of a global organization called Logia. Based in St Andrews, our main purpose is to highlight and develop women's excellence within the discipline of Divinity. Our core belief is that "You can be what you can see." This expresses the idea that women in academics need to see examples of women's excellence and success in their field of study in order to envision their own place at the table. An important part of my own journey as a young academic is that I could see what I wanted to be. Though I had many men serve as influential mentors and guides, there were also several women who modeled women's excellence in biblical studies through skilled teaching and significant scholarship. I recognize that I was very fortunate to have women in my field as mentors when my own female mentors and many of my female peers did not have the same opportunities. I was given a vision for academic life as a woman, a future mother, and a spouse; I am indebted to their legacy and investment. In my role at Logia, I hope to provide a means by which women here at St Andrews can be what they see.
For these reasons, and in light of my own story, I am more convinced than ever that women's excellence in biblical and theological studies must be highlighted and developed. There is yet a long distance to travel when it comes to women's voices being welcomed and academic spaces becoming accessible to women at all levels. Within my own academic journey, I am committed to pursuing excellence in teaching and research so that I might enable the next generation of women in my field to envision their own place at the table.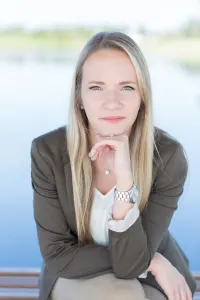 Melissa J. Barciela Mandala is a Ph.D. student in New Testament Studies at the University of St Andrews. She serves as co-director of Logia St Andrews.
Photo by Meg MacDonald on Unsplash